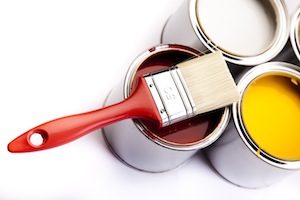 With Bignold Painting, you can rely on our team for your residential painting job. We'll treat your home as if it were our own. We guarantee a professional experience as well as a professional finish on every residential painting job we do. On every Calgary house painting job, we take care of every detail for a very reasonable, cost-effective price. We want the entire painting process of your home to be worry-free. In our experience, one of the best ways of ensuring success is to have a dedicated project manager. Which is why when you rely on us for your Calgary house painting services, we'll provide a project manager for each house project, and will ensure your project manager is by your side from the very beginning of the project, and right up until completion: we appreciate your business and work hard to earn your satisfaction.
Bignold Calgary House Painting: Interior
We know it's hard to choose paint colours for your home. We're here to help! With our experience in the field, we'll take into consideration all the details of your home that might affect colour choice when It comes to your residential painting job. We can also do paint test-strips for you, so you can see how each colour looks on the wall, at no charge to you.
Painting your house interior means paying attention to detail. At Bignold, we work hard to ensure every detail is taken care of. We employ a three-step quality control process that ensures the final product is something you can be proud of. We understand the unique needs of our clients, and we work hard to earn their satisfaction, every step of the way. That's what makes us stand out among residential painting companies in Calgary. You won't find residential painters more attuned to detail and quality than us.

The painting process begins before we even touch paint to your house. It starts with filling and sanding holes, removing light-switch and outlet plates, protecting your non-painted surfaces, and final prep work. Once we ensure everything is properly taken care of, we can start painting your house.
If you are struggling with paint colour choices, we can guide you through the decision by making you aware of trending paint colours, and/or by setting you up with a local Calgary interior designer who can give you options based on your furniture and other finishes.
For rental homes, high-traffic areas, kitchens, and of course bathrooms, we usually recommend increasing the paint sheen to a satin or pearl, depending on the paint manufacturer. This will make your paint more washable and durable for your residential painting job. However, for most walls, we recommend a simple eggshell – in the colour of your choice.
We ensure your home interior has a professionally painted look. Our Calgary house painters are insured and covered by WCB, and our project managers make painting your home's interior a breeze.
Read more about preparing the house for painting.
Need Your Ceiling Painted? We Can Help.
We look after all kinds of house ceilings. Whether you have stipple or flat ceilings, they require a professional house painters touch to get it just right. Read more about residential ceilings.
Bignold Painting
Calgary House Painters
403-999-9883
Guaranteed prices & 3 Year Warranty
Call for a Free Painting Estimate
- Calgary & Area -
Residential Calgary House Painting: Exterior Process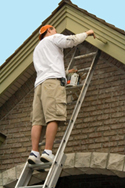 We specialize in exterior house painting. Whether you want to freshen up existing painted surfaces, or are planning on completely updating the colour and look of your house, we can help. We are established Calgary house painters that take pride in focusing on the details. We'll paint your home using the highest quality paints and coating products, enhancing the look of your home and most importantly, protecting your surfaces with a finish that will last. We pass along our great Calgary house painting supply discounts, so having a high quality, professionally painted home doesn't have to break the bank.

In our harsher climate, exterior painting in Calgary is best looked after in the spring and summer months, so it's important to book your home exterior painting project in the spring or early summer. This way, we can be sure to get to it by the end of the season. You won't need to choose paint colours when you book; we can always get those just before we start your residential painting job. Your project manager will know the best method of applying the paint to your house's different surfaces. Depending on which part of your house exterior needs covering, and what paint or stain product we are using, we may need to roll, brush, or spray the paint.

To get the best value on your exterior painting, our Calgary experts recommend completing as much needed painting as possible. If you know you're going to need something painted on your house down the road, ask for a quote on what it will cost to get it all painted at once. You'll likely save money having all of the painting completed in one project. When painting your house's exterior, our exterior painters prep and mask painted surfaces to give your home a professionally painted look. Your painting project manager will walk you through each step of the house painting project, including guiding you through the process of choosing the right paint or stain products. If you need help with paint colours, our exterior painters will help there too.

There are many paint and stain product options in the local area and your project manager will be more than willing to walk you through the options before painting begins.

Calgary winters can be harsh on exterior wood finishes. So for exterior wood surfaces, we often recommend upgrading to an Emulsion Stain. This is a solid colour paint-like product that has the best qualities of oil painting, without all the VOC's. Many Emulsion products come with 10 to 20-year manufacturer warranties on the paint. Pair that with our unbeatable 3-year full-service guarantee, and your house is in good hands. Of all the exterior painting companies that Calgary has to offer, Bignold is your best choice because we treat your home like it was our own. We guarantee a worry-free experience when it comes to your paint job.
Residential Stucco Services
We are highly experienced stucco painters. If, like most stucco homeowners, your parging or stucco needs some repairs we can take care of that too. Sometimes, when stucco condition is poor, we'll suggest upgrading to an elastomeric paint. Elastomeric is a specialized coating that contains plastic to hold your stucco in place. Painting your stucco will prevent calcification, water staining, and improve the durability and aesthetics of your home. Read more about stucco painting & repair.
Residential Siding Services
Calgary homes with wood siding or hardy board need to be painted regularly to keep properly maintained; however, that doesn't mean it has to be a maintenance nightmare. We can suggest residential painting and stain products that will last significantly longer, which means you'll spend less money and time painting your house in the long run. If we paint your home with a Sharkskin or Flood emulsion stain, the coating on your house siding will come with a 15 or 20 year warranty, depending on the paint manufacturer. Natural siding makes your house look great. Painting your house keeps it protected, and updated esthetically: Painting your siding regularly will make it last forever.
Most of the time, we will paint your your house siding with an airless paint sprayer, for the best finish, and for a nice thick coat of paint. Sometimes we will need to roll and brush to get everywhere. We almost always recommend two coats of paint on your home, as even the same colour might not match exactly, if it's even slightly faded. Get the best value out of your house painting project by having our house painters do your trim or interior at the same time. Read more about siding painting & staining.
Residential Services - Windows & Trim
The trim and fascia on your house can really take a beating in Calgary's elements. It's amazing the difference a fresh coat of high-quality paint or stain on your trim will make on the look of your home.
Proper surface preparation is critical to the longevity of the house paint coating. We use the highest standard of prep possible to give your surfaces a coat of paint that will last. When painting your house, scraping, sanding, cleaning and priming are very common for windows and fascia. The sun, moisture, and temperature really make these surfaces vulnerable. Using the right primer, paint, or stain, and upgrading to a product with a manufacturers warranty will help make your home's windows and trim last past five years. We guarantee our work for three years, so we make sure to prep it right, the first time Read more about window & trim painting.
Residential Painting Services - Doors & Garages
The front door on your house is the first thing your visitors see. A professionally painted high-gloss front door will give your residence an upscale feel.
Nothing ruins the look of your house more than a white metal door with yellowing plastic trim. Let us (spray) paint it with a high-quality lacquer or acrylic semi-gloss to give it a smooth professional high-end look. We will use residential painting products that can take a beating so that it will look great for years. Doors and garage doors are included in our house painters' guarantee. Read more about doors & garage door painting.
Residential Painting Services - Decks & Fences
Let us give you some suggestions on how to improve the longevity and aesthetics of your painted or stained decks and fences. Of all your house's painted surfaces, these take the worst beating of all.
Nothing completes the look of a deck or fence than a premium semi-transparent Sikkens Cetol or Flood type stain. It provides a hard, durable finish in a three-coat process. If your deck or fence has been previously painted or stained with a solid colour, we can use an oil product that penetrates the wood deeper and provides a harder more durable finish that works best on walked-on surfaces. It will provide the best possible longevity. Keeping your deck and fences stained, painted, and maintained, means you can enjoy the look of exterior of your home.
We can give your decks and fences the best surface preparation and the longest lasting residential painting products available, and make them look great. (However, decks and fences are excluded from our residential painting guarantee.) Read more about about decks & fences
Bignold Painting
Calgary House Painters
Guaranteed prices & 3 Year Warranty
403-999-9883
Call for a Free Painting Estimate
- Calgary & Area -
House Painting FAQ's