Bignold Painting- A Leading Calgary Painting Company
Regarded as one of the best painting companies in the local area, our team of experienced painters can provide a wide range of quality services to suit your personal or business needs. With well over ten years experience and decades of combined industry experience under our belt, we know the best way to provide a quality finish to your exterior or interior painting job. Whether you require a fresh coat of paint on the inside of your home, or need help with the rebrand of your business, whatever your painting needs - our Calgary painters are here. We've been helping people and businesses in the local area for years, providing an unbeatable service and a high quality paint job on every project we take on.
Providing High-Quality Painting Services in Calgary and Surrounds
Whatever your next painting requires, our team will ensure you're more than satisfied with our end result. At Bignold, we offer a wide range of painting services including and not limited to the following;
Interior Painting Services
Exterior Painting Services
Residential Painting
Commercial Painting
Stucco and Siding Painting
Outdoor Painting (deck staining)
Better yet, combined with our above services, our Calgary painters are so confident they can provide you with an unbeatable service and a high-level of quality for your next project, that we offer a 3 year guarantee on all our painting work. This provides you with the peace of mind in knowing you'll be putting your home or business in good hands for your next painting job.
---
Interior & Exterior Residential Painting Services
Interior Painting Services
We offer residential interior painting services all year round. We take care of all the details for your project, from filling and sanding holes, caulking baseboards, to painting your trim and your walls. We can even move your furniture if your house, or work in an empty house. Our expert Calgary painters work hard to deliver a picture perfect house interior paint job each time. Lines are clean and straight, and painted surfaces are smooth. We can remove wallpaper, spray your ceilings, lacquer wood and trim too. Whether it is new-construction or just updating your look, we can work with you or your contractor, and we also have designers to help you make those tough style choices.
Exterior Painting Services
If you're looking for a quality residential house painting company in Calgary, we offer residential exterior painting services which commence in May each year. This time of the year is when the temperature starts to be conducive to allowing paints and stains to fully cure. We are experts in spraying stucco and siding exteriors. Spraying your exterior results in a nice smooth finish that lasts for many years. We get the best possible prices on high-end specialty coatings products like Sharkskin, Sikkens & Rubbol, Flood and Elastomeric, to give you the longevity and the finish you desire. Plus, many of our paint and stain products come with manufacturers product warranty, providing you with extra peace of mind that your paint job will be able to withstand the test of time and seasons.
---
Commercial Painting & Services - Stucco and Repair
Maintenance
We are a year round company whose primary business is in commercial painting and maintenance services. Our in-house services, completed by our experienced team of Calgary painting contractors, include interior and exterior painting of all types, stucco painting and repair, commercial tear-down, carpet installation, vinyl wallpaper application and more. We also manage full renovation projects and ongoing commercial maintenance such as; window washing, and commercial cleaning. For a more in depth understanding of what we can do for you, please contact us by phone at (403) 999-9883.
New Construction Painting

For our contractor and general contractor clients, we offer a full range of new-construction painting services. We offer unmatched efficiency and reliability and provide competitive pricing for the caulking, priming, painting, lacquering, staining and stippling of new homes, or new commercial spaces. We work in luxury homes and starter homes, and provide the same great quality each time. Need a professional team to help with your new construction painting project? Rely on our Calgary painting company!
---
We make house painting easy.
With Bignold Painting, It's easy to have your house painted. Our experienced and local painters have everything we need, and include all paint and materials in your quote. Nothing is left out, so you know your house will get a new look and protected surfaces with no surprises. Don't let maintaining your home steal all your summer weekends, let the experts take care of it.

As one of the leading local painting companies in Calgary, over the years, we've built and upheld a reputation around our dedication to customer satisfaction and our attention to detail. Our expert painters will give your home the highest quality paint job available at competitive prices, and we guarantee it.
---
Detailed Work & Painting Quotes.
Our Calgary Painters take care of the details so you can take in the big picture. We put as much focus into the details of our itemized painting quotes as we do into painting your home. We measure everything, and make sure we didn't miss anything.

It is important to be so detailed when quoting to paint your house so that we can get you the best possible price and so the painting project goes smoothly. Being so detailed with our quotes also allows us to guarantee the paint and service for 3 years.

You should know what you have to pay when you sign the painting agreement, not when you get the invoice. We believe in being transparent and playing fair, that means we give you the cost up front, and keeping it the same to the end. Of course, if you'd like us to do more painting for you later, we would be happy to provide you with another quote!
Unbeatable Service and Experience.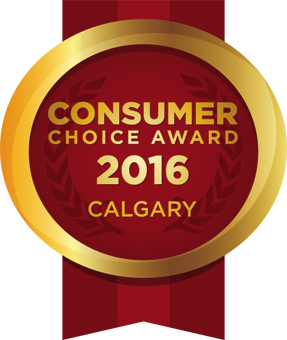 We're thankful our award winning service doesn't go unnoticed. Our hard work was rewarded when we won the 2016 Consumer Choice award in the painting category in Southern Alberta. When we started in business we wanted to revolutionize the experience that residential consumers had with Calgary painters, siding installers and stucco contractors. From the front line painters, siders and stuccoers, to the supervisors, and managers, every one of our people is committed to delivering on the promise of a superior service. Now that we've won we are even more determined in our resolve to continue on that path. A better service means reliable quality, good value for money and satisfaction guaranteed, click here to try it for yourself.

click here to try it for yourself.
---
When hiring painters in Calgary to work on your house, business or maintenance needs, you need to find people you can trust. The right painting contractor will be transparent, be driven by your satisfaction and by providing a superior experience throughout. Protecting your painted surfaces, and updating and beautifying your home is our business--but your experience is what makes us different. Both our painters and our dedicated project managers aim to develop a relationship and trust with our clients from the moment they meet, to the final walk-through.


---
Quality You Can Trust
Our paint quotes are guaranteed, which means that the price stays the same from beginning to end. You can also trust the quality of our painters and the paint they use, because it is also guaranteed for 3 years and backed up by years of experience. We use high-quality paint and stain products that will often include manufacturers warranties. Of course we are also fully insured, licenced and have WCB. We are based in the local area and are always looking to add to our list of satisfied painting customers.
---
Office Hours
Monday - Friday: 8:30am to 5:00pm
For project enquiries, please contact your dedicated project manager.
---
Methods of Payment

We accept Visa, Mastercard, Cash and Cheques.
---
Service Area
---
Reviews
---
---